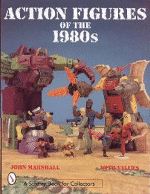 Action Figures of the 1980s
He-Man, Thundercats, Transformers, the WWF, the DC Super Powers Collection, Marvel Super Heroes Secret Wars, and GI Joe: A Real American Hero are the highlights of this journey to the toy aisles of the 1980s. Includes a complete price guide to all major lines, and hundreds of color photos of items in and/or out of package. In addition to the big boys, there are price guides and color photos for Advanced Dungeons & Dragons, Bionic Six, Bravestarr, Captain Power, Centurions, COPS, Inhumanoids, Real Ghostbusters, GoBots, Robotech, Warlord, Sectaurs, and, yes, the earliest Teenage Mutant Ninja Turtles! Other movie and TV lines include The A-Team, Adventures of Indiana Jones, Clash of the Titans, Commando, M*A*S*H, and Star Trek! Plus many others!
Over 400 color photos!
Check out the info page at SCHIFFER PUBLISHING or via your favorite on-line retailer.